Machines
NRPL manufacturing equipments are under various production sections.
Compounding Section includes Poka-yoke based Digital Computerized ingredient Weighing Machine, Cutting Equipments Like Bale Cutter, Strip cutter etc, Internal Mixer, Kneaders, Heavy Duty Chilled Roll Mixing Mills, Hot Roll Mills etc.
Moulding Section has a range of electric heated Hydraulic Presses with digitally thermostat controlled temperature, time and pressure control etc. of various sizes, Transfer Moulding Rubber Press SPM, Rubber Injection Moulding Machines, Plastic Injection Moulding Press etc.
Extrusion Section has Cold Feed and Hot Feed Extruders (2" to 6") with Straight & Cross Heads, profile Extrusion with complete Lines of Microwave Curing, Infra red Curing and Hot Air Cure , Water chillers, Strip cutting machines, Steam Boilers, Vulcanizers for steam curing, Flocking Machines for Velvet Finish Profiles, Online Driers, Caterpillars, Metal Insert Breakers, Automatic Length Cutting Machine, Profile end Joint Injection Machine etc.
Calendering & Sheeting Line includes Calendar Machines (upto 66") for uniform sheet making with complete line control, Sheet Moulding Press line (2.2 m wide x 1.2 m), Sheeting Conveyors with Online thickness Detection mechanism, Sheet Roll management equipments etc.
Hose Manufacturing Section includes Moulding Machines for Moulded Hoses, Vertical & Horizontal Braiding Machines (Wire Braiding & Yarn Braiding), Knitting Machine with 4 Heads, Hose Wrapping / De wrapping Machine, Hose Cutting Machines, Hose End Cutting Machine, Hose Crimping Bench, Automatic Hose Demandrelling Machine with Pressure Test, Buffing Machine for cleaning, Spiral Wire Reinforced Hose Making SPM, Wrapped Hose Making Benches etc.
Various metal parts can also be manufactured and processed internally. We have Sheet Metal Power Presses (Manual & Automatic) up to 250 Ton capacity, Sort Blasting Machines (Table type & Conveyor Type), Sand Blasting Machine, Various types of Grinders, Universal Milling Machine, Buffing Machines, Drilling Machine, Tapping Machine with fixtures, Welding machines (Electric Arc, MIG, TIG) and various other tools, dies and fixtures etc. A mini tool room is also at our doorstep, which caters our day-to-day requirements. This Tool Room includes equipments like Lathe Machine, Shaper Machine, Drill & Tap Machine, Grinders, Chrome Plating & Tool Polishing Facility etc. Metal & Textile chemical treatment and bond adhesive coating facilities are also available with NRPL.
Other assisting equipments includes Finishing Equipments, Spray Painting Equipments, Powder Coating Machine, Computerized screening and printing machine etc. Various Special Purpose Machines (SPM) have been developed for efficient working for specific purpose.
There are Generators, which acts as alternate captive power source and therefore helps in running the plant round the clock continuously without any failure.
Machines & Process/Capabilities & Controls
All Major Manufacturing Machines & Process done in NRPL are regularly controlled and Cp, Cpk values are analysed for all major Manufacturing Machines & Testing equipments & various processes. Various statistical process control (SPC) measures are taken to monitor & steer the process in control. Control Plans together with PFD & FMEA are methodically followed for product & Process Consistency.
Material Flow are focused to provide minimum lead time and to eliminate process wastes. KAIZEN, 5S, Kanban, Taguchi and other methods are also targeted for better productivity and quality improvement, lead time reduction, costing efficiency etc.
Laboratory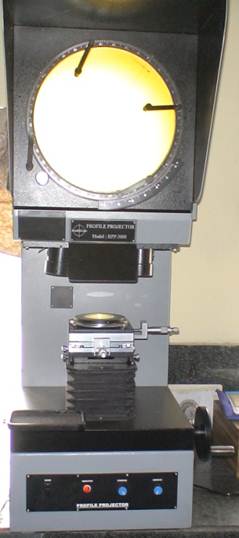 A well-equipped Laboratory is being maintained to have regular planned checks on product quality at various stages of production as per the control plans.
Incoming Inspection & Dimensional Check Labratory has facilities Like Ford D Cup Viscometer, Melting Point apparatus, Bore gauge, Groove Gauge, Height Gauges, Bevel protractor, Thickness Gauge, Dial callipers, Various Go-No Go gauzes, Thread Gauges, Radius Gauges, Scales, Digital Vernier calipers, Single pan electronic balance, Beam balance, Specific Gravity meter,dimension check magnifying glasses, Optical Profile Projector (10X, 50X) for Precision Dimensional Checks etc.
Chemical & Physical Checking labratory Has instruments like Tensometer, Digital Tensile Tester for testing tensile strength, elongation at break, Modulus, Tear Test etc., Computerized Universal Testing Machine (UTM) for testing metal to rubber bond strength, Deflection, Composite Strength, deformation characteristics etc., Durometers of shore A and D for hardness measurements, Digital Temperature controlled Air ageing ovens for ageing tests and product life prediction, Muffle furnaces, Compression set and tensile set equipments, Flame Propogation Test Facility, etc.
Fatigue & endurance Labratory has Some of the prominent equipments like Load-Deflection test equipment, Computerized Compression machine, 0 to 23 Ton / 0 to 3 Hz Frequency Computerized networked Endurance Testing / Fatigue testing machine for dynamic vibration product testing,  300 Ton Compression Machine with Cyclic Endurance test facility based on deflection cycles and digital controls, 1 ton Tup Hammer machine with impact from 1 m, Hose Burst Pressure & Proof Pressure Test Bench with Endurance Test Capacity, Extrusion profile & Trim Endurance Digital Automatic Machine etc.
Other Research and Product Specific or Test Specific Equipments includes Computer network controlled Rheometer for Compound analysis, Cure Characteristic study and other related process studies, Static & Dynamic Ozone Testing Chamber,Low Temperature Test Machine (Upto-70 C) for Hose (including endurance), Low Temperature Brittleness test and material Study, Lab Mixing Mill, Lab Press, Burst Pressure & Air vacuum Pressure testing instruments for hoses etc.,  Abrasion Testing equipments, Digital Elcometers for coating thickness, Lab Mixing Mill, Lab Press, Visual , Chemical apparatuses, Spirit Lamp, Soxalate's apparatus, Uniform temperature distillation apparatus, Vibration Analyzer, Environment condition analyzer, Tachometer, Electric Resistance tester for Polymer, Spark Tester for non destructive test, Profile Insertion Exertion Load Test Facility, Profile CLD Force & Bulb Collapse Test Facility, etc.
Non Destructive Testing (NDT)
Some of the key special equipments of Nalin Rubber Includes Instruments like Electrostatic based spark tester for Non Destructive testing for a probable deformity.
Dynamic Testing (Endurance) Facility
Dynamic Life cycle of a Product can be predicted using Computerized Fatigue Testing machine / Endurance Testing Machine for Vibration and for Loadings and Shocks in Mounts, Isolators, Buffers, Shock Pads etc. Similarly Hose Pressure Endurance Machine can test product under Pressure Variation Fatigue for a given number of cycles.
Low Temperature Testing Unit
Low Temperature Brittleness test, Hose Bend test and Hose Pressure Endurance Test at Low Temperature can be conducted. Similarly Thermal Shocks can be given in Low temperature test unit. We have facility even to give hammer effect on a rubber product at Low Temperature. This unit can be computer connected and provides ample data.